CyberCoach Travel Trailer
Travel without worry, without fussing, with all the comforts. That's what we're all looking for. That's what CyberCoach provides.
Live like you're at home.
Take a long shower.
Work without worrying about batteries, solar, or having the best connectivity.
Warm up some popcorn in the microwave and watch a show after a long work day.
Take a long, hot shower after a hard day hiking or biking.
Cook a gourmet meal on sizable countertops and chef's stove, with fresh meat and veggies from the fridge.
Charge your CyberTruck for another day fishing.
The CyberCoach comes in 3 floorplans and lengths, and 3 different trim levels to suit your needs and budget.
Batteries
Large, premium lithium batteries are carefully enclosed in the CyberCoach trailer. At full charge (top trim level), there is enough electricity to run the air conditioning in the dark for over 42 hours, or charge your Cybertruck an additional 100 miles towing range (roughly, highly condition dependent).
Huge Solar Array
With more solar panels than you can shake a stick at, you shouldn't be wanting for power while camping. Even in poor light conditions, your CyberCoach will have the solar power to cover your day to day electric use, leaving the battery ready to charge your EV when it's time to move
Water
Loads of fresh water on board means you don't have to come back to civilization often. And water savings features such as hot water recirculation at the sink, plus a recycling/filtered shower mean long hot showers and long trips off grid are all possible
Composite Construction
3" of solid core foam in the walls, 4" in the ceiling and floors, and no thermal bridging means the CyberCoach stays warm in the winter, cool in the summer. We use an advanced heat recovery vent to bring in fresh air without losing energy.
Air Conditioning
Only the quietest, highest efficiency mini split air conditioner is used in the CyberCoach. Whisper quiet so you can enjoy your surroundings insteading of listening to the drone of standard RV air conditioners.
Heating
Do you hear that? Didn't think so - the CyberCoach heating is silent, comfortable electric radiant floor heat. With so much solar and battery on board, we are able to use efficient DC electric radiant heat throughout the coach
Networking
We include, as standard, high end WiFi and wired networks in each CyberCoach coach. Dual SIM cellular router with WiFi as WAN capabilities, external antenna, and hardwired ethernet ports give you the best connectivity on the road. And of course, Starlink, once it's released to the mobile market!
Coach Controller
Our proprietary coach controller app allows you to monitor all the vitals in the CyberCoach on any device. Batteries, tanks, temperatures. View your video cameras from the app. Switch lights, water pumps, or anything else in the coach on and off. All from any device, as long as the CyberCoach has internet. And if you're completely off grid, the app still works on your device when in WiFi range.
Creature Comforts
You don't have to leave the creature comforts behind with the CyberCoach. We've got high end audio and visual equipment throughout, including interior and exterior speakers, 32" 4k monitor on a locking wall swing, and high end lighting and plumbing fixtures throughout
Auto Leveling
With the touch of a button, you can level the CyberCoach for a comfortable nights sleep. No more driving the rear wheel up on a ramp to get your van level. Park the CyberCoach, level it and leave it.
Independent Off Road Suspension
The CyberCoach isn't just for smooth pavement roads. With independent, air bag suspension and large off road tires, you can feel confident towing the CyberCoach on the harshest roads and terrain. Unlike typical RV suspension, your gear won't be rattled apart and on the floor when you arrive at your destination. Smooth.
Regenerative Trailer Brakes
Coming soon, the CyberCoach will have the addition of regenerative trailer brakes, allowing the trailer battery to charge while braking en route
Built With The Sun
All Craftsman Coaches vehicles are built entirely off-grid, using the same power system you'll have in your CyberCoach. That's right, you can weld, cut and join from a CyberCoach system, or you can just enjoy the air conditioning and quiet while camping.
CyberCoach - Reserve Now
Want to get outside in luxury for worry free camping? Now is your chance to get in the queue. $1,500 refundable reservation gets your place in line.
Reserve Now
About Us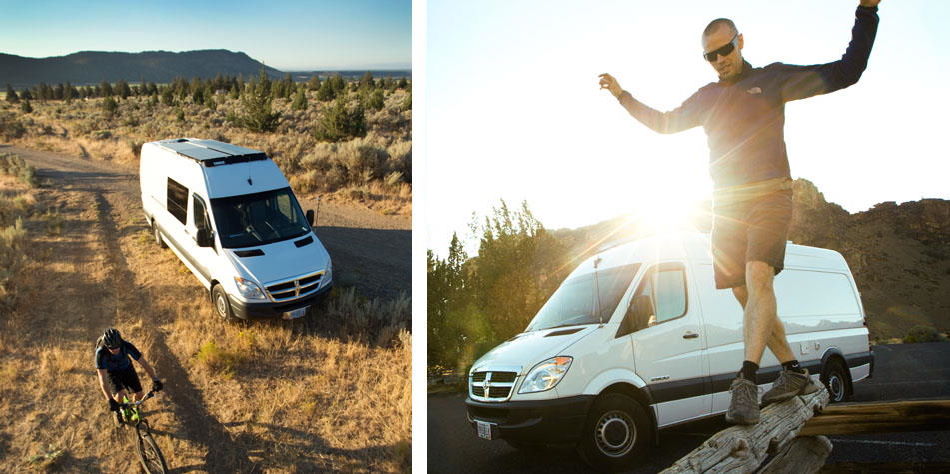 Craftsman Coaches, Inc. is Quality & Service
Owner and builder Sam Elmore originally started Craftsman Coaches, Inc. as Craftsman Vans. Before vans were a thing, Craftsman Vans was doing unique and advanced camper vans. Early to adopt large solar arrays, lithium batteries, diesel fuel heaters, Craftsman Vans pushed the envelope with functional vehicles.
After years of vans, it was time to incorporate a brand change to Craftsman Coaches, Inc. and grow to building other RV's. Craftsman Coaches, Inc. has retrofitted many travel trailers, fifth wheels, vans and motorhomes with the latest solar and battery technology. We've done complete remodels with custom woodwork and top shelf fixtures and materials. And now, we're building the highest end travel trailers.
Quality
Customer Service
Technology
These are the values Craftsman Coaches, Inc. is built on.
Contact Us
Feel free to get in touch with us
Craftsman Coaches, Inc.
Find us on social media
info@craftsmancoaches.com